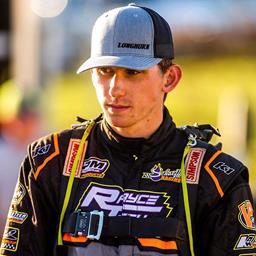 ---
Cameron Weaver Makes Eldora Debut
Cameron Weaver made his Eldora Speedway (Rossburg, Ohio) debut during the second running of the Eldora Million and the Dirt Late Model Dream XXVIII.
Wednesday's Eldora Million opener was postponed by persistent rain, so Cameron had to wait until Thursday morning to make his debut at the famed high banks in his Ronnie Wyatt Racing No. 17 Longhorn Race Car.
The 124-car field was split into twin $12,000-to-win programs on Thursday, and Weaver began the day by qualifying 40th fastest in his 62-car group. Heat race action found him advancing from the 10th-starting position to an eighth-place finish, which positioned him fourth on the starting grid for his B-Main. With only the Top-2 finishers transferring to the prelim feature, his outing ended with a fourth-place finish.
Later that evening the finale of the Eldora Million was held, and Weaver slipped from the 11th-starting spot in his heat race to a 13th-place finish as his night drew to an early end.
Cameron returned on Friday as the 28th running of the Dirt Late Model Dream roared to life. 114 competitors filled the pit area and with the field again split into twin $12,000-to-win events, he qualified 33rd fastest in his 57-car group before finishing 10th in his heat race.
He lined up ninth in his B-Main and was able to advance to fourth-place finish, which unfortunately left him two spots short of a transfer to the prelim feature.
For Saturday's finale a ninth-place finish in his heat race positioned him 18th on the grid for his B-Main, but the team decided to scratch from the balance of the program to save their equipment.
Full weekend results are available at www.EldoraSpeedway.com
Article Media
Back to News